MIUI 14 eligible Devices List | Release Date
MIUI 14 is the latest operating system for Xiaomi, POCO, and Redmi smartphone devices. Information about the release date and eligible devices list of MIUI 14 is available here. You will be able to download the updates of this operating system and install them on your device with the help of OTA or Xiaomi Flash Tool.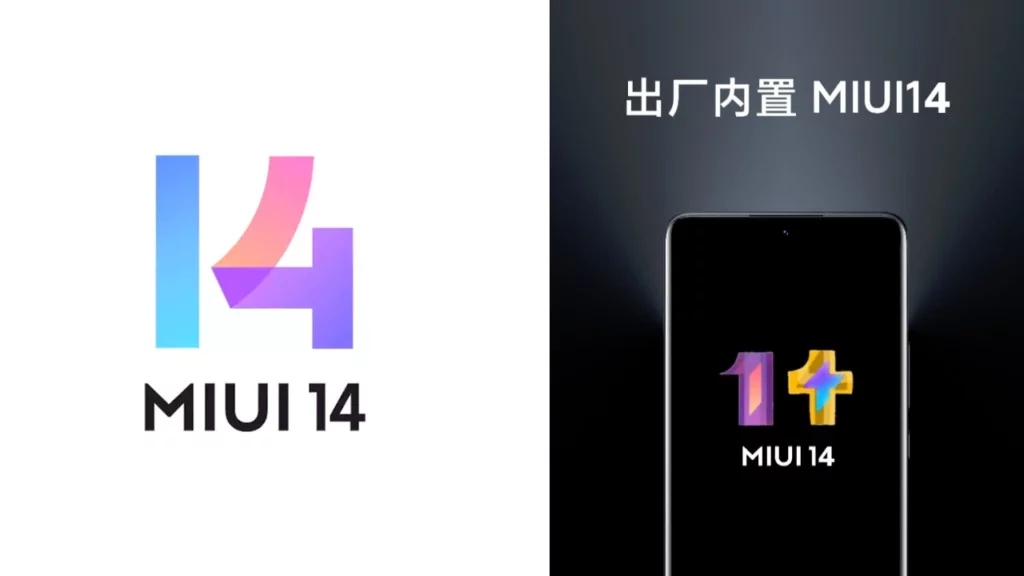 MIUI 14 was first released as a beta version in China on 11 December 2022. After that launched in China with the latest Xiaomi 13, and Xiaomi 13 Pro with the stable update of MIUI 14. Also, UPDATES are available for many other Xiaomi devices.
MIUI 14 update will be given for India, Indonesia, Taiwan, Europe, China, Turkey and Global countries. Xiaomi devices available in these regions will receive MIUI 14 stable update. Xiaomi MIUI 14 features a lot of changes from MIUI 13 and gives a smooth experience keeping in mind the security. So if you are a Xiaomi mobile phone user, then you can check in the list below whether your device is eligible for MIUI 14 or not.
List of MIUI 14 Eligible Devices
Xiaomi 13 Pro
Xiaomi 13
Xiaomi 13 Lite
Xiaomi 12
Xiaomi 12 Pro
Xiaomi 12X
Xiaomi 12S Ultra
Xiaomi 12S
Xiaomi 12S Pro
Xiaomi 12 Pro Dimensity Edition
Xiaomi 12 Lite
Xiaomi 12T
Xiaomi 12T Pro
Xiaomi 11T
Xiaomi 11T Pro
Xiaomi Mi 11 Lite 4G
Xiaomi Mi 11 Lite 5G
Xiaomi 11 Lite 5G NE
Xiaomi Mi 11 LE
Xiaomi Mi 11
Xiaomi Mi 11i
Xiaomi 11i
Xiaomi 11i Hypercharge
Xiaomi Mi 11 Ultra
Xiaomi Mi 11 Pro
Xiaomi Mi 11X
Xiaomi Mi 11X Pro
Xiaomi MIX 4
Xiaomi MIX FOLD
Xiaomi MIX FOLD 2
Xiaomi Civi
Xiaomi Civi 1S
Xiaomi Civi 2
Xiaomi Mi 10
Xiaomi Mi 10i 5G
Xiaomi Mi 10S
Xiaomi Mi 10 Pro
Xiaomi Mi 10 Lite Zoom
Xiaomi Mi 10 Ultra
Xiaomi Mi 10T
Xiaomi Mi 10T Pro
Xiaomi Mi 10T Lite
Xiaomi Pad 5
Xiaomi Pad 5 Pro
Xiaomi Pad 5 Pro 12.4
Xiaomi Pad 5 Pro 5G
Redmi Note 12
Redmi Note 12 Pro
Redmi Note 12 Pro+
Redmi Note 12 Discovery Edition
Redmi Note 11
Redmi Note 11 5G
Redmi Note 11 SE
Redmi Note 11 SE (India)
Redmi Note 11 4G
Redmi Note 11T 5G
Redmi Note 11T Pro
Redmi Note 11T Pro+
Redmi Note 11 Pro 5G
Redmi Note 11 Pro+ 5G
Redmi Note 11S
Redmi Note 11S 5G
Redmi Note 11 Pro 4G
Redmi Note 11E
Redmi Note 11R
Redmi Note 11E Pro
Redmi Note 10 Pro
Redmi Note 10 Pro Max
Redmi Note 10
Redmi Note 10S
Redmi Note 10 Lite
Redmi Note 10 5G
Redmi Note 10T 5G
Redmi Note 10T Japan
Redmi Note 10 Pro 5G
Redmi Note 9 4G
Redmi Note 9 5G
Redmi Note 9T 5G
Redmi Note 9 Pro 5G
Redmi K50
Redmi K50 Pro
Redmi K50 Gaming
Redmi K50i
Redmi K50 Ultra
Redmi K40S
Redmi K40 Pro
Redmi K40 Pro+
Redmi K40
Redmi K40 Gaming
Redmi K30S Ultra
Redmi K30 Ultra
Redmi K30 4G
Redmi K30 Pro
Redmi Note 8 (2021)
Redmi 11 Prime
Redmi 11 Prime 5G
Redmi 10C
Redmi 10A
Redmi 10 Power
Redmi 10
Redmi 10 5G
Redmi 10 Prime+ 5G
Redmi 10 (India)
Redmi 10 Prime
Redmi 10 Prime 2022
Redmi 10 2022
Redmi 9T
Redmi 9 Power
Redmi Pad
POCO M3
POCO M4 Pro 4G
POCO M4 5G
POCO M5
POCO M5s
POCO X4 Pro 5G
POCO M4 Pro 5G
POCO M3 Pro 5G
POCO X3 / NFC
POCO X3 Pro
POCO X3 GT
POCO X4 GT
POCO F4
POCO F3
POCO F3 GT
POCO C40
POCO C40+
Release Dates and Updates Availablity
| wdt_ID | Device | Codename | Region | Date | Availablity |
| --- | --- | --- | --- | --- | --- |
| 1 | Xiaomi 13 Pro | nuwa | China | EEA | Global | 11/12/2022 | Available in China |
| 2 | Xiaomi 13 | fuxi | China | EEA | Global | 11/12/2022 | Available |
| 3 | Xiaomi 13 Lite | | China | EEA | Global | | Coming Soon |
| 4 | Xiaomi 12 | | China | 11/12/2022 | Available |
| 5 | Xiaomi 12 Pro | | China | 11/12/2022 | Available |
| 6 | Xiaomi 12X | | China | EEA | Global | 11/12/2022 | Available in China |
| 7 | Xiaomi 12S Ultra | thor | China | 11/12/2022 | Available |
| 8 | Xiaomi 12S | mayfly | China | 11/12/2022 | Available |
| 9 | Xiaomi 12S Pro | unicorn | China | 11/12/2022 | Available |
| 10 | Xiaomi 12 Pro Dimensity Edition | daumier | China | 11/12/2022 | Available |
| 11 | Xiaomi 12 Lite | | China | 11/12/2022 | Available |
| 12 | Xiaomi 12T | plato | China | EEA | Global | 11/12/2022 | Available in China |
| 13 | Xiaomi 12T Pro | diting | China | EEA | Global | 11/12/2022 | Available in China |
| 14 | Xiaomi 11T | | China | 11/12/2022 | Available |
| 15 | Xiaomi 11T Pro | | China | India | EEA | Global | 11/12/2022 | Available in China |
| 16 | Mi 11 Lite 4G | courbet | EEA | 02/02/2023 | Available |
| 17 | Xiaomi Mi 11 Lite 5G | renoir | China | EEA | Global | Russia | 01/01/2023 | Available |
| 18 | Xiaomi 11 Lite 5G NE | | China | India | EEA | Global | 11/12/2022 | Available in China |
| 19 | Xiaomi Mi 11 LE | lisa | China | 11/12/2022 | Available |
| 20 | Xiaomi Mi 11 | | China | 11/12/2022 | Available |
| 21 | Mi 11i | haydn | Global | 01/01/2023 | Available |
| 22 | Xiaomi 11i | | China | 11/12/2022 | Available |
| 23 | Xiaomi 11i Hypercharge | | China | 11/12/2022 | Available |
| 24 | Mi 11 Ultra | star | China | 11/12/2022 | Available |
| 25 | Mi 11 Pro | star | China | 11/12/2022 | Available |
| 26 | Mi 11X | alioth | India | 01/02/2023 | Available |
| 27 | Xiaomi Mi 11X Pro | haydn | india | 01/02/2023 | Available |
| 28 | Xiaomi MIX 4 | odin | China | 01/01/2023 | Available |
| 29 | Xiaomi MIX FOLD | cetus | China | 11/12/2022 | Available |
| 30 | Xiaomi MIX FOLD 2 | zizhan | China | 11/12/2022 | Available |
| 31 | Xiaomi Civi | | China | 11/12/2022 | Available |
| 32 | Xiaomi Civi 1S | | China | 11/12/2022 | Available |
| 33 | Xiaomi Civi 2 | ziyi | China | 11/12/2022 | Available |
| 34 | Xiaomi Mi 10 | | China | 11/12/2022 | Available |
| 35 | Xiaomi Mi 10i 5G | | China | 11/12/2022 | Available |
| 36 | Xiaomi Mi 10S | thyme | China | 11/12/2022 | Available |
| 37 | Xiaomi Mi 10 Pro | | China | 11/12/2022 | Available |
| 38 | Xiaomi Mi 10 Lite Zoom | | China | 11/12/2022 | Available |
| 39 | Xiaomi Mi 10 Ultra | | China | 11/12/2022 | Available |
| 40 | Xiaomi Mi 10T | | China | 11/12/2022 | Available |
| 41 | Xiaomi Mi 10T Pro | | China | 11/12/2022 | Available |
| 42 | Xiaomi Mi 10T Lite | | China | 11/12/2022 | Available |
| 43 | Xiaomi Pad 5 | | China | 11/12/2022 | Available |
| 44 | Xiaomi Pad 5 Pro | | China | 11/12/2022 | Available |
| 45 | Xiaomi Pad 5 Pro 12.4 | dagu | China | 11/12/2022 | Available |
| 46 | Xiaomi Pad 5 Pro 5G | | China | 11/12/2022 | Available |
| 47 | Redmi Note 12 | ruby | China | EEA | Global | | Coming Soon |
| 48 | Redmi Note 12 Pro | ruby | China | Global | | Coming Soon |
| 49 | Redmi Note 12 Pro+ | ruby | China | Global | | Coming Soon |
| 50 | Redmi Note 12 Discovery Edition | | | | Coming Soon |
| 51 | Redmi Note 11 | | | | Coming Soon |
| 52 | Redmi Note 11 5G | | | | Coming Soon |
| 53 | Redmi Note 11 SE | | | | Coming Soon |
| 54 | Redmi Note 11 SE (India) | | | | Coming Soon |
| 55 | Redmi Note 11 4G | | | | Coming Soon |
| 56 | Redmi Note 11T 5G | | | | Coming Soon |
| 57 | Redmi Note 11T Pro | | | | Coming Soon |
| 58 | Redmi Note 11T Pro+ | | | | Coming Soon |
| 59 | Redmi Note 11 Pro 5G | | | | Coming Soon |
| 60 | Redmi Note 11 Pro+ 5G | | | | Coming Soon |
| 61 | Redmi Note 11S | | | | Coming Soon |
| 62 | Redmi Note 11S 5G | | | | Coming Soon |
| 63 | Redmi Note 11 Pro 4G | | | | Coming Soon |
| 64 | Redmi Note 11E | | | | Coming Soon |
| 65 | Redmi Note 11R | light | China | | Coming Soon |
| 66 | Redmi Note 11E Pro | | | | Coming Soon |
| 67 | Redmi Note 10 Pro | | | | Coming Soon |
| 68 | Redmi Note 10 Pro Max | | | | Coming Soon |
| 69 | Redmi Note 10 | | | | Coming Soon |
| 70 | Redmi Note 10S | | | | Coming Soon |
| 71 | Redmi Note 10 Lite | | | | Coming Soon |
| 72 | Redmi Note 10 5G | | | | Coming Soon |
| 73 | Redmi Note 10T 5G | | | | Coming Soon |
| 74 | Redmi Note 10T Japan | | | | Coming Soon |
| 75 | Redmi Note 10 Pro 5G | | | | Coming Soon |
| 76 | Redmi Note 9 4G | | | | Coming Soon |
| 77 | Redmi Note 9 5G | | | | Coming Soon |
| 78 | Redmi Note 9T 5G | | | | Coming Soon |
| 79 | Redmi Note 9 Pro 5G | | | | Coming Soon |
| 80 | Redmi K50 | | | | Coming Soon |
| 81 | Redmi K50 Pro | | | | Coming Soon |
| 82 | Redmi K50 Gaming | | | | Coming Soon |
| 83 | Redmi K50i | xaga | China | 11/12/2022 | Available in China |
| 84 | Redmi K50 Ultra | diting | China | 11/12/2022 | Available in China |
| 85 | Redmi K40S | | | | Coming Soon |
| 86 | Redmi K40 Pro | | | | Coming Soon |
| 87 | Redmi K40 Pro+ | | | | Coming Soon |
| 88 | Redmi K40 | alioth | China | 01/01/2023 | Available |
| 89 | Redmi K40 Gaming | ares | China | 01/01/2023 | Available |
| 90 | Redmi K30S Ultra | | | | Coming Soon |
| 91 | Redmi K30 Ultra | | | | Coming Soon |
| 92 | Redmi K30 4G | | | | Coming Soon |
| 93 | Redmi K30 Pro | | | | Coming Soon |
| 94 | Redmi Note 8 (2021) | | | | Coming Soon |
| 95 | Redmi 11 Prime | | | | Coming Soon |
| 96 | Redmi 11 Prime 5G | light | india | Global | | Coming Soon |
| 97 | Redmi 10C | | | | Coming Soon |
| 98 | Redmi 10A | | | | Coming Soon |
| 99 | Redmi 10 Power | | | | Coming Soon |
| 100 | Redmi 10 | | | | Coming Soon |